What type of clients do we work with?
Working at Nieve you get to experience different types of interesting projects. For example at the moment our developers are working with a climate deep tech company that measures and reduces greenhouse gases from industrial sources and an e-mobility service company to improve their systems. We are constantly looking for new projects where we can use our knowledge of IoT and AI to help our clients build quality software for their future needs. We are also constantly looking for people who are driven by software development and have experience in these sectors. We will be at J on The Beach this week if you want to come and meet us and hear more about the work we do and work opportunities at Nieve.
Some words from Julian about working with our clients?
"Working for this company has been one of the most enriching experiences I have ever had as a programmer. With a 100% CI/CD oriented structure, they allow the developer to focus on writing code, using the latest frameworks and typed language, with a clear divergence between building components and the data layer. This, although challenging at times, allows me to focus on what I like most, which is why I enjoy it so much. As an example, we even use copilot to generate automatic descriptions in Pull Requests. The working environment and mentality of the company is far from the pyramidal mindset we are used to, and that makes it a great place to work."
What type of tasks we're working on?
Helping create a new checkout frontend that increases conversions using React.
Payment processing optimizations to avoid loss revenue.
Integration with OneSignal for cost optimization and marketing automation.
New data pipeline to aggregate data from different systems into a data lake that can be used by a Business Intelligence tool to better understand and optimize the business.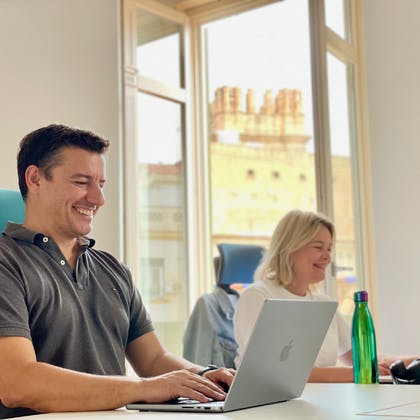 Working at Nieve
At Nieve we value both our clients and our people. Living up to Nordic quality and reliability in everything we do' is the guiding principle leading Nieve forward. For us it is important to provide our customers with high quality software and we believe this is best done by making sure our developers are motivated to work for our clients. We ensure this by discussing the projects with our people making sure they have both the skills and motivation to work with the client. We offer independence and responsibility, flexibility and competitive revenue-share based compensation. We want to ensure our people get to enjoy a modern way of working and work in high-quality projects with interesting international customers. This ensures happy developers and better code.